Texas Notary
Commission Renewal



The Fast & Easy Way to Renew Your Texas Notary Commission. Only $79.99*
New Online Esignature Tool and Paperless Application Process
New! Renew Your Texas Notary
Commission Online
Our paperless notary application wizard will guide you step-by-step to complete and e-sign your Texas notary application online with a click of your computer mouse. This efficient paperless process will eliminate the need to print, scan, and then mail, fax or email your Texas notary application. It's your choice to apply online or offline. Either way, we make it fast and easy for you to become a Texas notary public.

Don't Want to Renew Online?
Renewing online is safe, easy, and fast, but if you'd prefer to apply offline, just follow these three simple steps to start the application process. You'll get everything that's required to become a commissioned Texas notary public in 5-10 working days.
Click here to print the Texas notary Application forms.

Select the complete Texas notary package listed on the order form. Choose your stamp ink and case color. All our products are manufactured in-house, comply with Texas notary laws, and come with a lifetime replacement guarantee.

Mail

us your completed Texas notary application, order form, and payment. We will review your application for accuracy, issue the bond, and file it with the Secretary of State. We will ship your supplies to you once you are approved as a notary public.

Complete Texas Notary Package
Only $7999* Including a 1-Year Membership in AAN (Limited time offer - over 40% in savings on supplies)
Notary Package Includes:

Texas 4-year, $10,000 notary bond

$5000**

State filing fee

$2100**

TRODAT P4 self-inking rectangular notary stamp


(Item #201). Available in 14 case colors

$1895**
- OR -

COSCO self-inking rectangular notary stamp with anti-microbial additive


(Item #210). Available in 11 case colors

$1895**

Notary public manual (Item #804)

Emailed in PDF Format

$1295

Notary fee schedule

Included

One-year membership to AAN

$1900
A TOTAL VALUE OF $12190
YOUR COST: $7999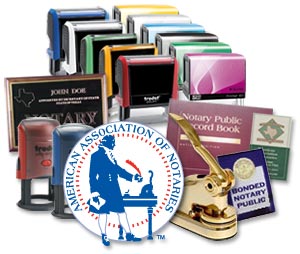 *This package may be purchased separately at the same net savings without the state mandatory 4-year, $10,000 notary bond for $29.99 plus $5.95 for shipping. Enter item # P102 on the order form. The Texas 4-year, $10,000 notary bond may also be purchased separately for $50.00. Discounts/Savings apply only to supplies and not to notary bonds or errors and omissions insurance policies.
**Required by Texas notary law.
Make the most of your business!
Click here
to shop for additional notary supplies.
Need more protection? We highly recommend an errors and omissions (E&O) insurance policy. Your bond protects the public you serve, but an errors and omissions insurance policy protects you!
To receive a Texas notary application by mail, e-mail us at applications@texasnotary.com.
Texas Notary Bonds and errors and omissions insurance policies provided by this insurance agency, the American Association of Notaries, Inc., are underwritten by Western Surety Company (established 1900). American Association of Notaries, is owned by Kal Tabbara, licensed insurance agent in Texas.